Our Vision
To maximize, enrich, and strengthen the human animal bond of our community
through high quality and compassionate animal health care.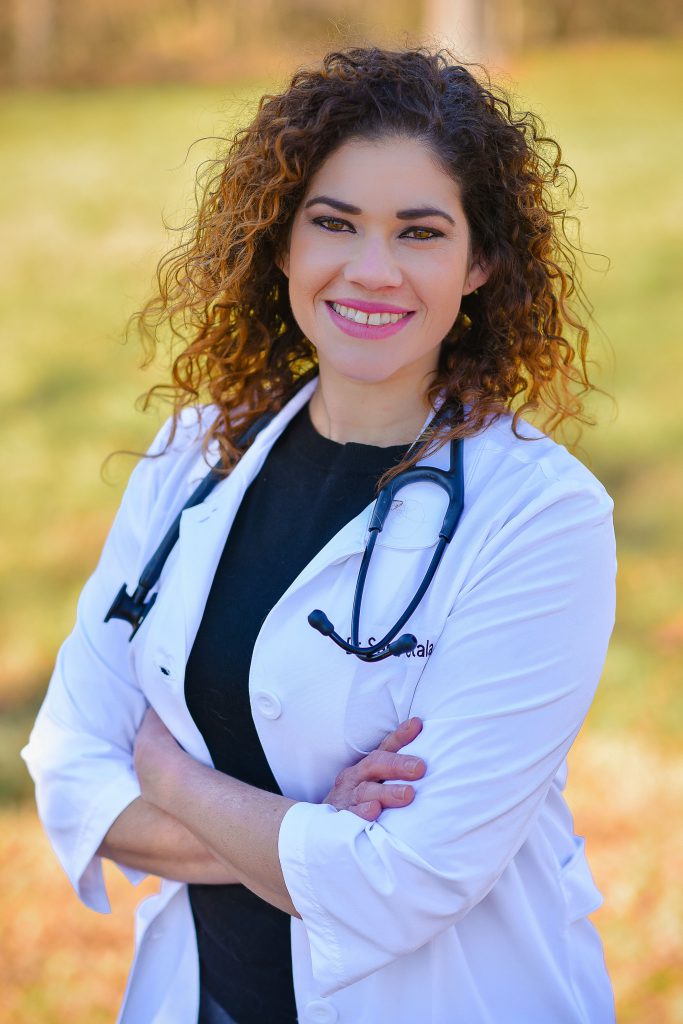 Dr. Sara Cátala, Veterinarian/Owner
Dr. Cátala, better known as Dr. C, was born and raised in the island of Puerto Rico and from a young age had a passion for animals. She wanted to combine her love of animals with her interest in medicine and decided to pursue a veterinarian career as the perfect profession for her. She completed a bachelor's degree in Animal Science from the University of Puerto Rico, Mayaguez Campus and then went on to complete her veterinary studies at Mississippi State University. After graduating vet school in 2012, Dr. C and her husband moved to Morrisville, NC where they have lived since.
After working for several years as an associate veterinarian in Durham and Cary, she decided to fulfill her dream of opening her own practice and with much excitement, Happy Tails Veterinary Hospital was founded and opened in March 2020.   
Dr. C is passionate about surgery, preventive care, and mentoring students interested in the veterinary field, amongst others, but most importantly, she strives to ensure that all clients and patients feel welcomed and have a happy, relaxed experience during each visit. Therefore, she strongly believes in the Fear Free Concept and is a Fear Free Certified Veterinarian. She also enjoys serving the Spanish speaking community as this is her first language.  
In her spare time, she loves to spend time with her family and friends and to travel whenever possible. Her favorite is to be with her husband Jomar, her children Penélope and Lorenzo, and her two dogs, Jack's Legacy and Rulo.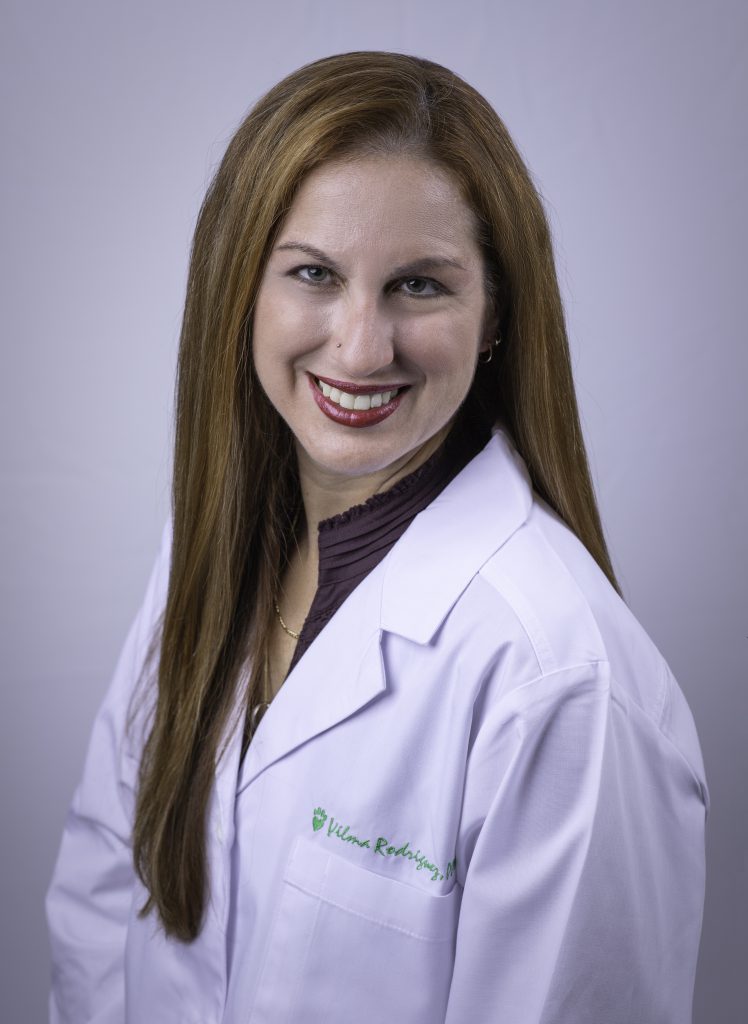 Dr. Vilmarie Rodriguez, Associate DVM
Dr. Rodriguez was born and raised on the island of Puerto Rico. As a young girl, she dreamed of becoming a veterinarian following in her father's footsteps. She earned her bachelor's degree in Biology from The University of Puerto Rico, Mayaguez Campus, in 1996. Dr. R earned her DVM degree from Kansas State University in 2000. After graduating, she practiced veterinary medicine in Connecticut for 8 years prior to moving to North Carolina, where she has been practicing ever since. Her major interests are preventative and internal medicine. She joined Happy Tails Veterinary Hospital in August 2022 and earned her Fear Free Certification in December 2022.
In her personal time, Dr. R is a Zumba Fitness instructor.  Dr. R loves spending time with her family, including her husband Tom, her son Connor, and stepdaughters Becca, Megan, Emily, and Nova. She currently has 1 dog — Parvorotti (aka Parvy) as well as 2 cats named Tarzan and Robin. In addition, she has a 30-gallon fish tank.
Her favorite hobbies are dancing, scuba diving, snorkeling, traveling, training for Zumba Fitness, hiking and cooking.
Dr. R loves every aspect of being a small animal veterinarian. It's of the utmost importance to Dr. R that you feel Happy Tails Animal Hospital is part of your pet's care team. In her opinion, creating personal bonds with her clients and their fur-babies is the best part of being a general practitioner.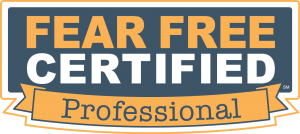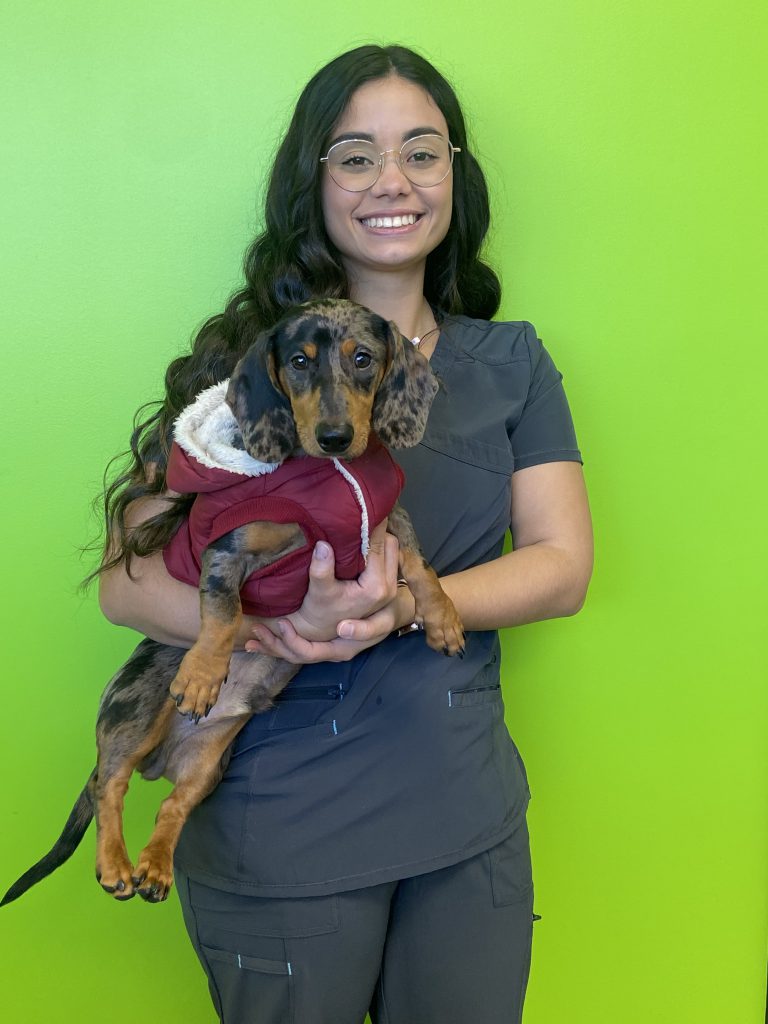 Fabi, Veterinary Assistant/Veterinary Student
Fabiola (Fabi) was born and raised in Puerto Rico. She completed a bachelor's degree in Biology with a minor in Biotechnology from the University of Puerto Rico, Bayamon Campus. She performed research investigations in the island and would like to pursue more animal research in the near future. Fabi is passionate about animals and serving people. She's been working in the veterinary field since 2016 in Puerto Rico, and moved to Raleigh in 2019. Since joining Happy Tails, Fabi has learned the Fear Free approach to animal care and is dedicated to expanding her knowledge within this field. Fabi is now in her second year of veterinary school at NC State University and works part time whenever she can. In the rest of her spare time, Fabi likes arts, going to the beach, and spending time with her family and friends as well as spoiling her baby Milo, a Dachshund.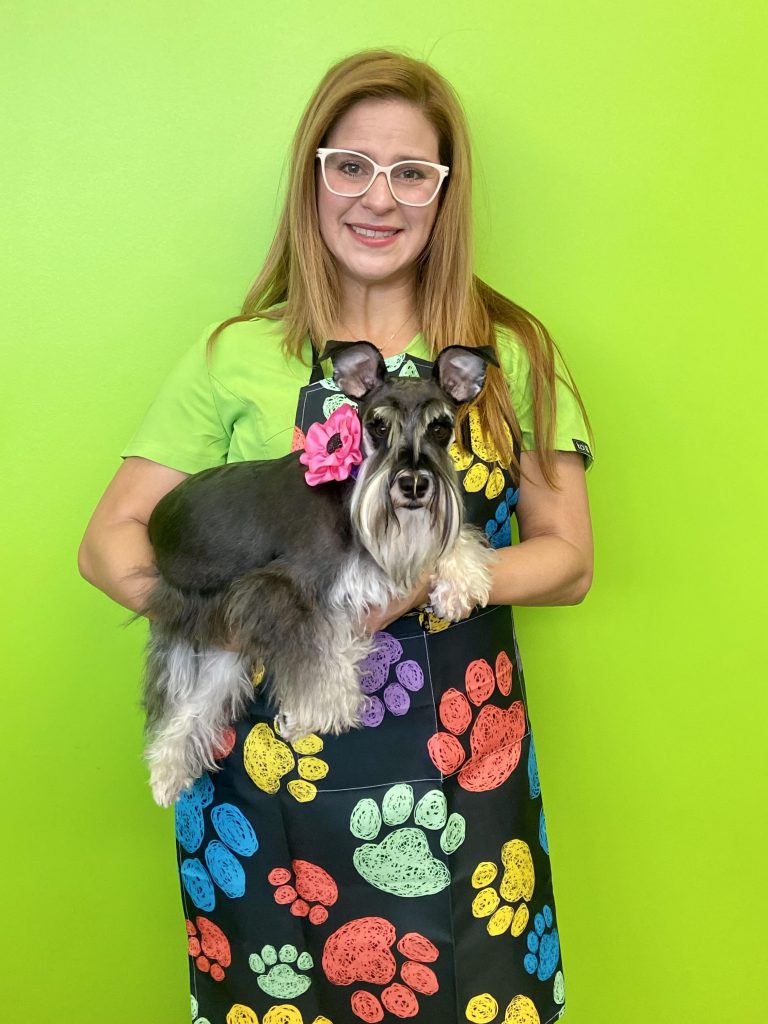 Maria Rosario - Groomer/Customer Service Representative, Fear Free Certified Groomer
With over 12 years of experience, Maria combines true love and care to be an exceptional and professional dog groomer. During her beginnings,  Maria worked with PetMax in San Juan, PR, but a few years later she started her own home grooming business called Colitas Felices Pet Grooming. She moved to North Carolina in 2017 with her family and  and is very happy being part of the Happy Tails Veterinary Hospital team collaborating with her experience and dedication to each pet. Maria takes great pride in being able to provide professional services to the community and personal care and attention to each client and pet. Maria is one of the few Fear Free Certified Groomers in our area. When not grooming pets, you will find her in the reception area welcoming all our clients and patients to our hospital.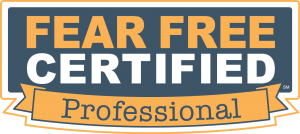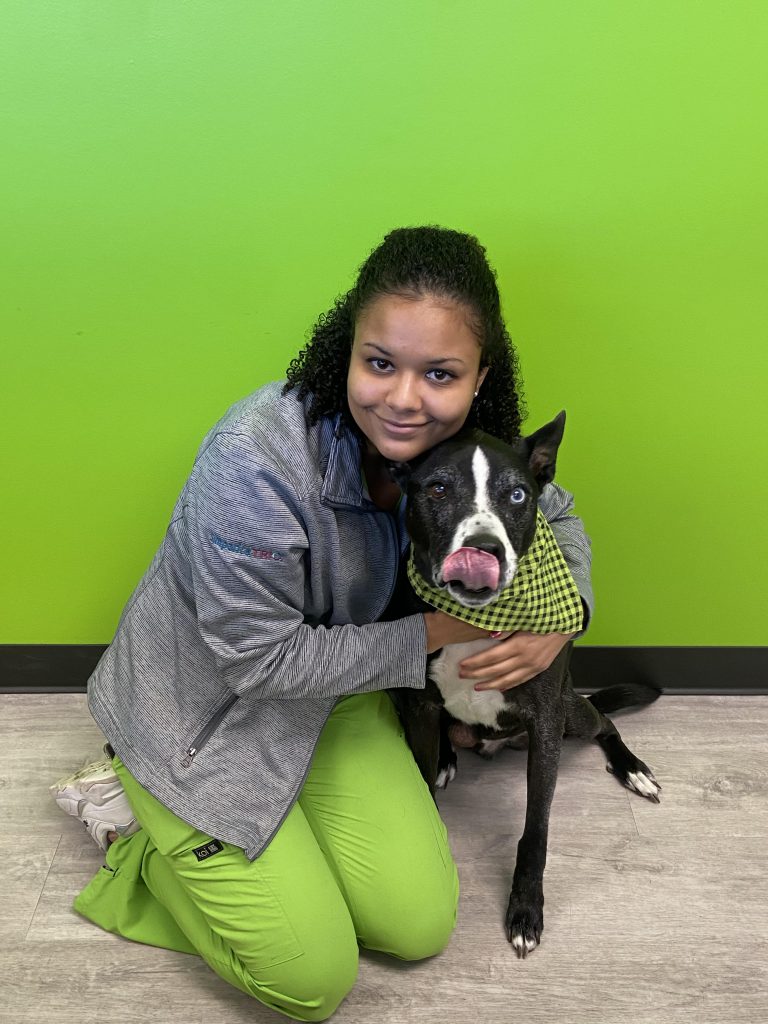 Sara Stewart - Lead Client Service Representative
Sara was born and raised in North Carolina and has an associate degree in Office Administration, and both a Receptionist and Fear Free Certificate. Sara has always had a passion for animals and has always known that she wanted to work with them in some shape or form. She has worked with dogs and cats in a professional setting since 2019, and hopes to continue the trend. Besides having a love for our four-legged friends, she also enjoys helping/serving others and have 8 years and counting of experience in customer service. As a client service representative, Sara strives to treat every patient and client with respect, empathy, and genuine care.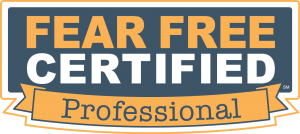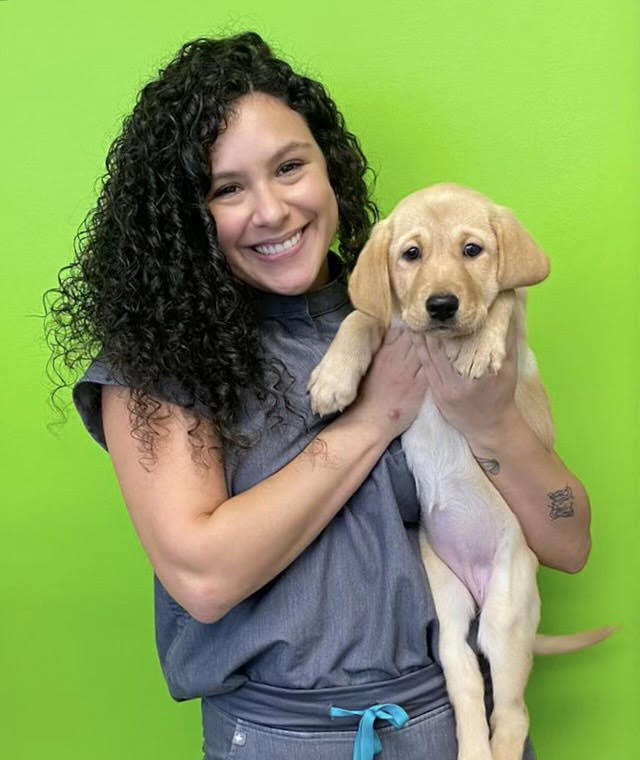 Natalia, Veterinary Assistant/Veterinary Student
Natalia was born and raised in Manati, PR. Since she was a toddler, she knew that her calling in life was to take care of animals. Therefore, she completed a bachelor's degree in Animal Science at the University of Puerto Rico, Mayagüez Campus with the goal of applying to veterinary school. Currently, she is a third-year veterinary student that aspires to become a small animal veterinary surgeon. During her free time, Natalia enjoys exercising, dancing, doing yoga, spending time with friends, going to the beach and cuddling with her lovely kitties, Ibiza and Mango. She believes that working at HTVH has been one of the best learning experiences that will positively shape her career as a future veterinarian.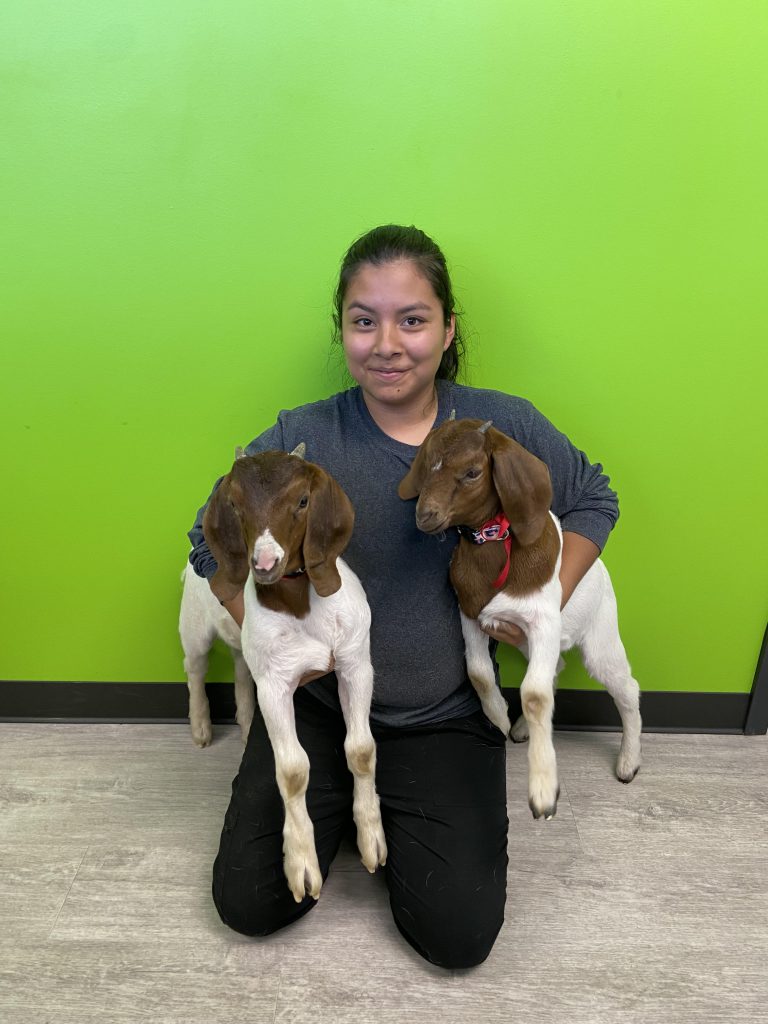 Ruby Rios, Veterinary Technician
Hi, my name is Ruby and I graduated from Central Carolina Community College in May 2022 with a veterinary technician degree. A fun fact about me is that I am a triplet! Since I was a little girl I always wanted to work with animals because I enjoy their company and they bring me so much joy and peace. I currently have two dogs and multiple goats and chickens. When I'm not at work, I like to spend time with my family and my pets. I also enjoy traveling, going to the movies, shopping, and relaxing at home watching TV.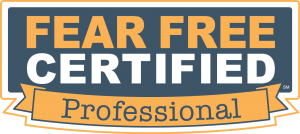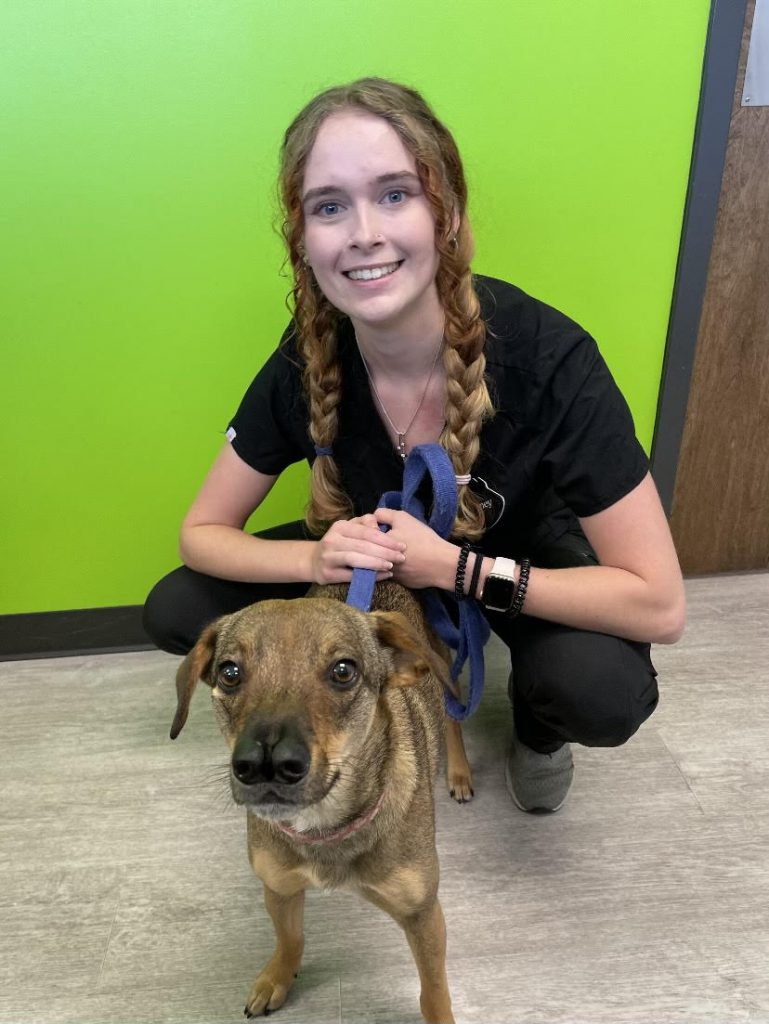 Sydney McCann, Veterinary Assistant
Sydney was raised in Massachusetts and graduated from Assumption University in 2022 with a bachelor's in Biology and a minor in Psychology. While there, she competed in cross country and track & field and studied for physical therapy. This path was soon replaced by her love of animals, where she now hopes to combine her two interests into one: aiding in the physical rehabilitation of our furry companions. After graduation, she moved to North Carolina in hopes of making this dream a reality. Sydney plans on applying to the NC State College of Veterinary Medicine to become a veterinarian herself. She is also currently working to become Fear Free Certified to ensure that all of the patients she helps have the best visit possible. In her spare time, she likes to hike with her two dogs, Dobby and Sam, who she rescued from the Dominican Republic and the SPCA of Wake County. She also enjoys working out with her boyfriend, reading, and painting.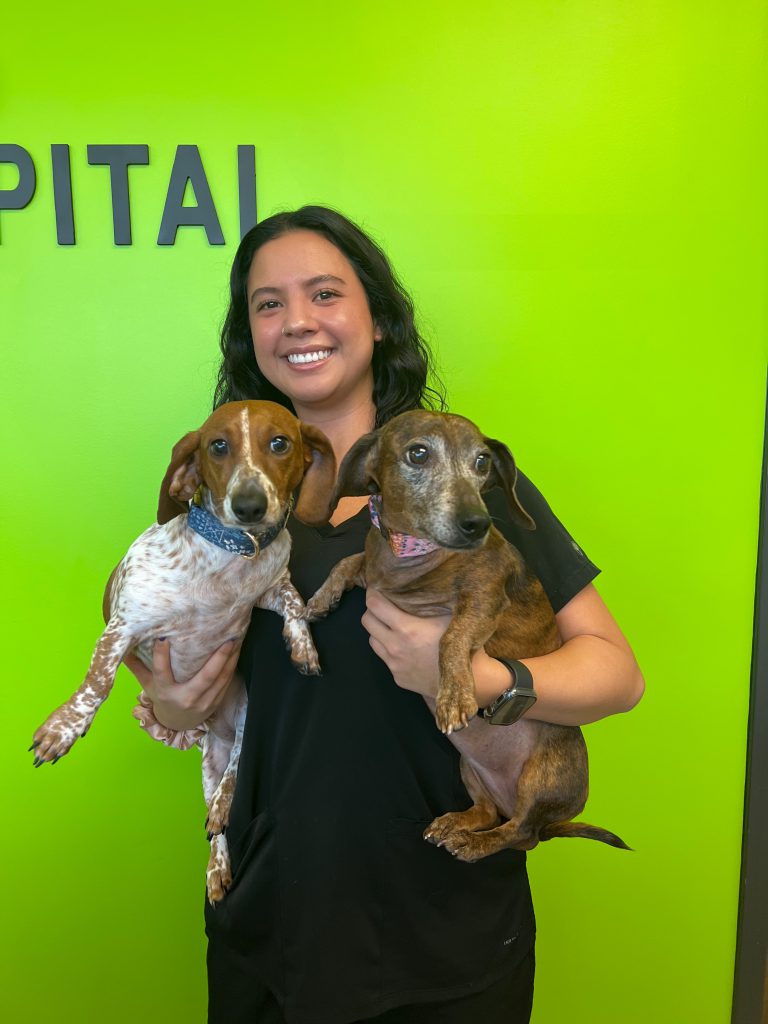 Layla Lombard, Veterinary Assistant
Layla was born in Florida but grew up as a military brat and has lived all over the US. She graduated in 2021 from East Carolina University with a bachelor's degree in anthropology. Layla has always been interested in animal welfare and conservation so she is dedicated to doing anything she can to help animals. In addition to working as a vet tech, she also works as a research assistant at the Duke Lemur Center collecting samples for a microbiome study. When not spending time with animals Layla is often reading, hiking, and exploring Raleigh with her friends.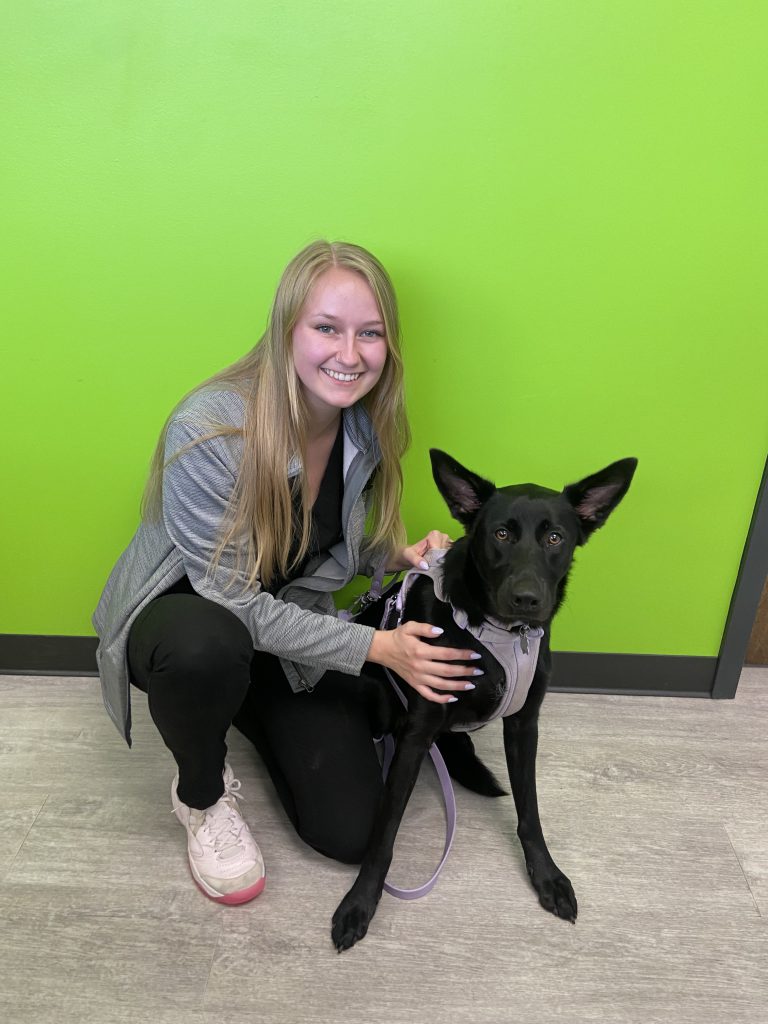 Emily Johnston, Customer Service Representative and Veterinary Assistant
Emily graduated from NC State University in 2021 earning a bachelor's degree in 'Fisheries, Wildlife, and Conservation Biology' with a minor in 'Animal Science'. Emily grew up in Cary, NC with a passion for all animals and made the decision to become a vegetarian at only 12 years old. In her free time she enjoys spending time with her friends, family, and of course spoiling her shepherd mix, Lucy Lavender. In our hospital, Emily greatly appreciates the unique bond made with every individual pet and aims to provide kindness, patience, and empathy to every patient. One of her main values as a part of the Happy Tails team is to create a positive and friendly experience for both pets and pet parents with every visit. Emily is a Fear Free Certified team member.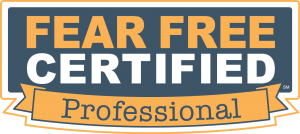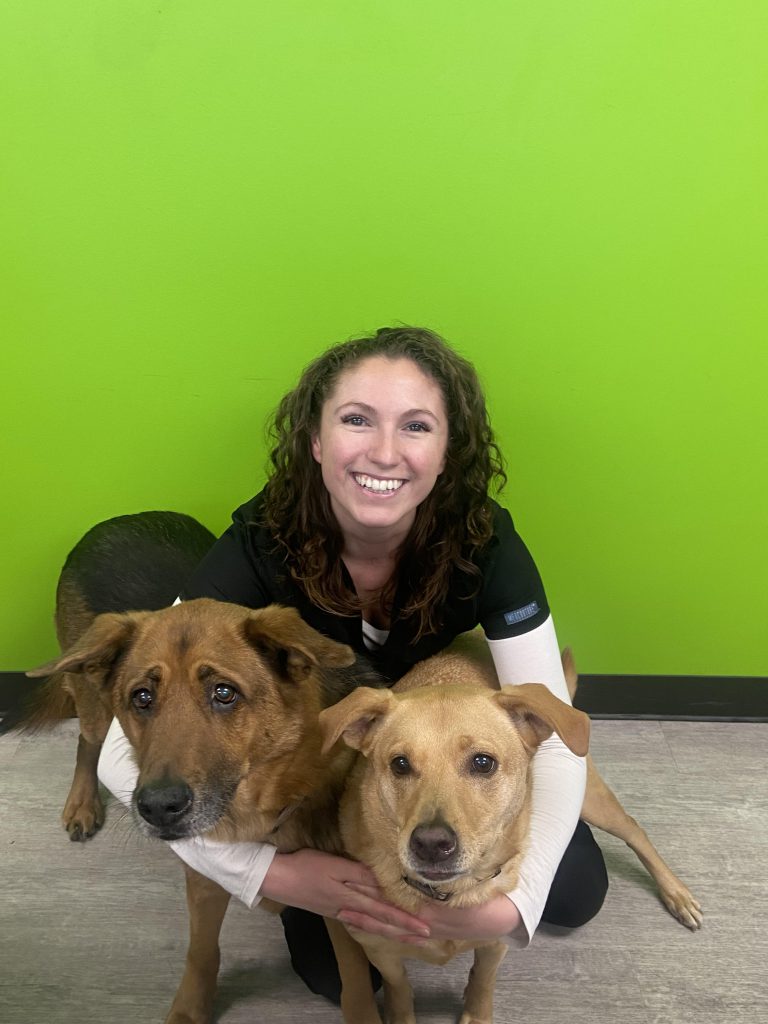 Shannon Jaeger, Veterinary Assistant
Shannon was born and raised in Massachusetts and moved to North Carolina in October of 2022 with her husband, Ben. Together they have two shelter cats, Mary Jane and Little Boo, and two rescue dogs, Korra and Atticus. Shannon spent the last five years running her own pet care business after graduating from Salem State University. She has a bachelor's degree in biology and a minor in chemistry. She hopes to eventually attend veterinary school at NCSU. Shannon aspires to help the lives of animals and the families that love them.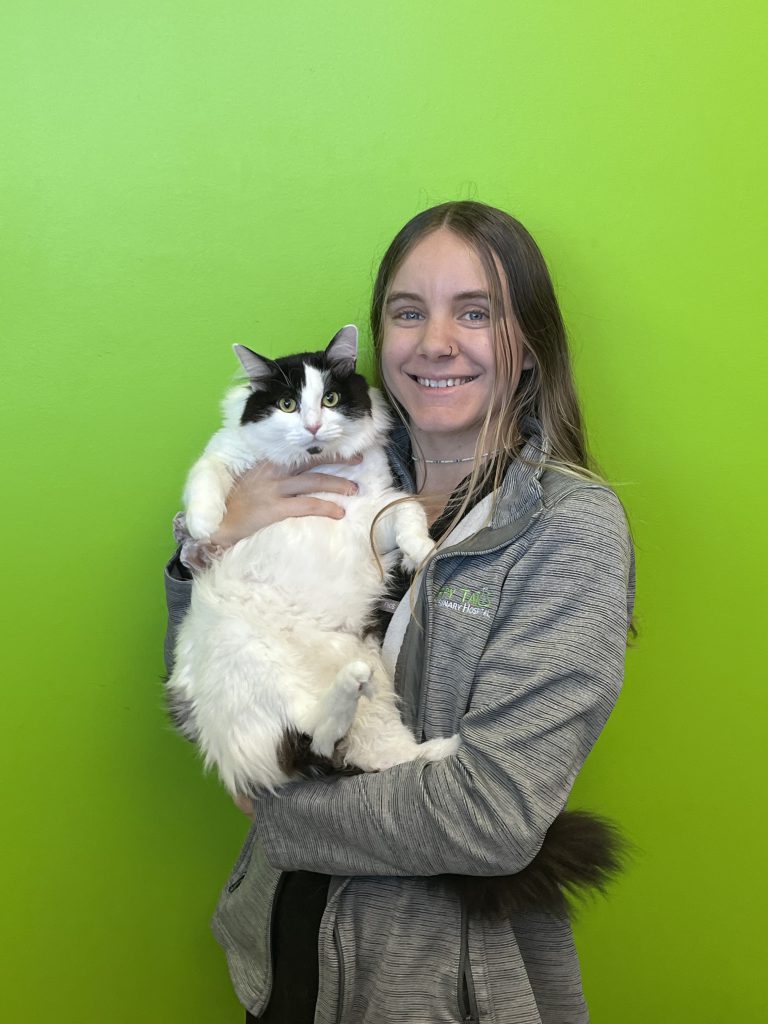 Sarah Dolley, Veterinary Assistant
 I was born and raised in California, but moved officially to NC where I graduated from Belmont Abbey College in 2021 with a bachelor's degree in Biology. After college I took a year off from school and worked at Forsyth Humane Society as a vet assistant where my love for wanting to care for animals grew. I've been in the vet field since 2020 and have loved it ever since. Meeting new animals and making connections with them and their owners makes even the crazy days worth it. I began veterinary technician school in 2022 at Central Carolina Community College, I plan on attending vet school after graduating from CCCC in 2024. When not working; I love smothering my two cats, Oreo and Sullivan, with love. I also love running, doing yoga, and spending time with friends.